What Makes The Dharma Store a Vegan Clothing Brand?
We are a vegan clothing brand because our vegan clothes contain no animal products; instead we use vegan-friendly materials such as cotton, rayon, and polyester. Also, our designs contain vegan messages so you can spread kindness, awareness and compassion through fashion.
We are also based in the USA.
Vegan Message by The Dharma Store
What is Vegan Clothing?
Vegan clothing is a type of clothing made from materials that are free of animal products or by-products. This means that vegan clothing does not use any leather, wool, silk, fur, or any other materials that are derived from animals. Instead, vegan clothing uses materials such as cotton, linen, hemp, and synthetic materials that are eco-friendly and sustainable. Choosing vegan clothing is an important part of living a cruelty-free lifestyle.
Sacred Geometry by The Dharma Store
Benefits of Vegan Clothing
It's Ethical: Vegans avoid the use of animal products in all aspects of their lives, including their clothing. Vegan clothing offers an ethical alternative that is cruelty-free and does not harm animals in any way.
It's Sustainable: Vegan clothing is made using materials that are sustainable and have a lower impact on the environment than animal-derived materials. This means that it is a more eco-friendly option for vegans who are committed to reducing their carbon footprint.
It's Affordable: Vegan clothing is often less expensive than traditional clothing, as it uses materials that are widely available and more affordable than animal-derived materials.
It's Versatile: Vegan clothing comes in a wide variety of styles and designs, from casual wear to formal wear, and can be worn for any occasion.
In addition to being an ethical and sustainable choice, vegan clothing is also a great way for you to express your values and show your support for the cruelty-free movement. Vegan clothing is a perfect choice if you want to live a cruelty-free lifestyle and make a positive impact on the environment.
Choose vegan clothing, and support ethical and sustainable fashion.
Vegan Accessories to Complete Your Look
Looking to complete your vegan clothing look with the perfect accessory? Look no further than our collection of vegan trucker hats!
Made from high-quality, eco-friendly materials, our vegan trucker hats are the perfect addition to any outfit. Whether you're running errands, hitting the gym, or just hanging out with friends, these hats will keep you looking stylish and feeling comfortable.
And the best part? Our trucker hats are 100% vegan, made without any animal products or byproducts. So you can feel good about your purchase knowing that it's not only stylish and high-quality, but also eco-friendly and sustainable.
Pair our vegan trucker hats with your favorite vegan clothing items, such as one of our t-shirts, to complete your look. With a variety of colors and designs to choose from, you're sure to find the perfect hat to match your style.
The Dharma Store Reviews
I bought a shirt, and have gotten a lot of compliments on it. The print is solid and tough enough to stand up to many trips through the washing machine. Great quality t-shirt that's really soft and light-weight without being too thin. Fit seems true to size, it's perfect and I love it!
I bought a few shirts several months ago and I really like them! They were true to size according to the chart; it is not tight or fitted but is not boxy or oversized either! I would say the way that it looks on the woman in the photo of the size chart is pretty accurate! I enjoyed the fit and the fabric so much that I have come back to buy more shirts!
I am so in love with this vegan shirt. It is absolutely perfect. I just ordered 2 more shirts! Oh and I already got a compliment on it today. Bonus! Helping spread the word.
The tank tops are super comfortable! Love the design and fit!
Good quality, comfortable! Love love love my shirt! Thank you!!!
The Dharma Store Vegan Blog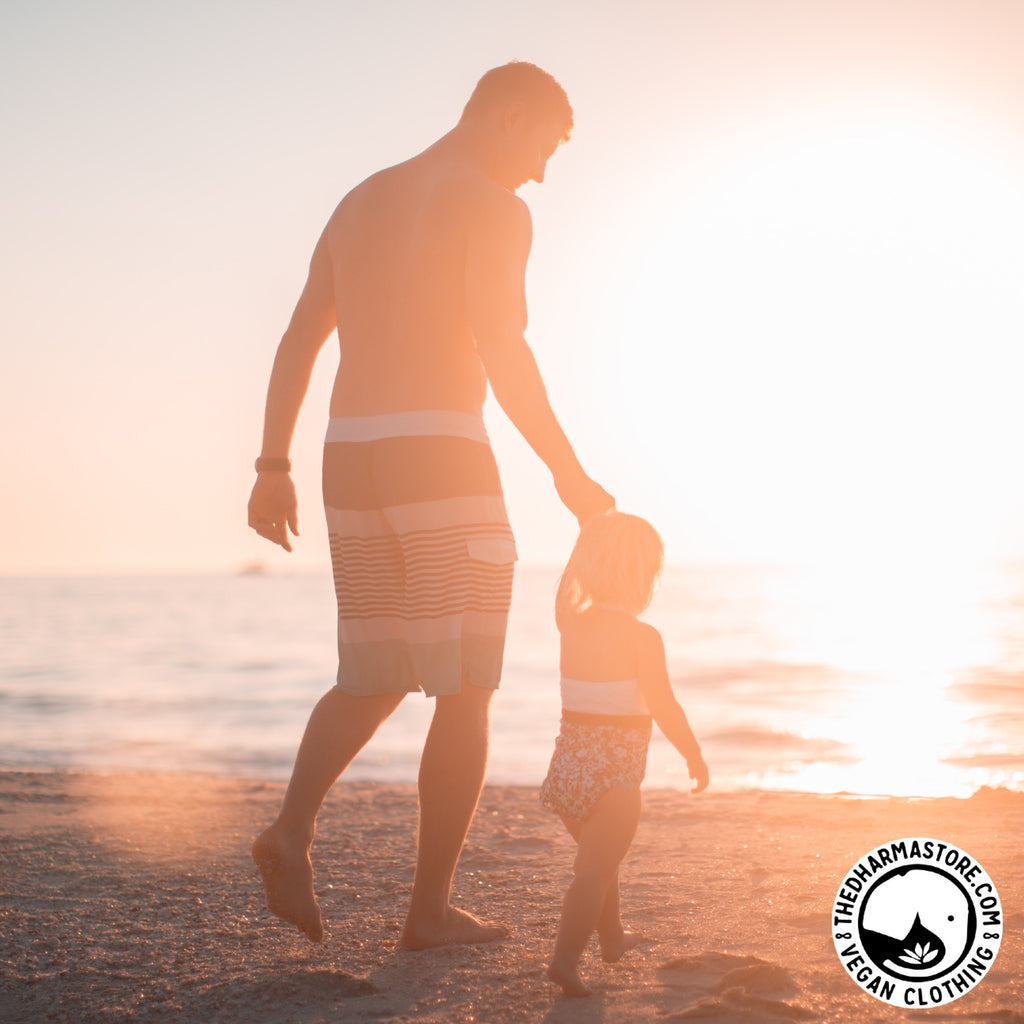 Hey there, all you compassionate souls! As we approach Father's Day, there's no better time to celebrate the growing popularity of veganism and honor those amazing vegan dads out there. It's a chance for us to show appreciation for the fathers who not only provide love and support but also embrace a lifestyle that aligns with their values of compassion and ethical choices. So, whether you're a vegan dad yourself or looking to celebrate the vegan father in your life, this blog post is here to guide you on how to make this Father's Day truly special. We'll delve into the concept of a vegan lifestyle, its incredible impact on health, the environment, and animal welfare, and of course, we'll share some relatable stories and anecdotes about these incredible vegan dads. So, get ready to dive into the wonderful world of vegan Father's Day celebrations with us!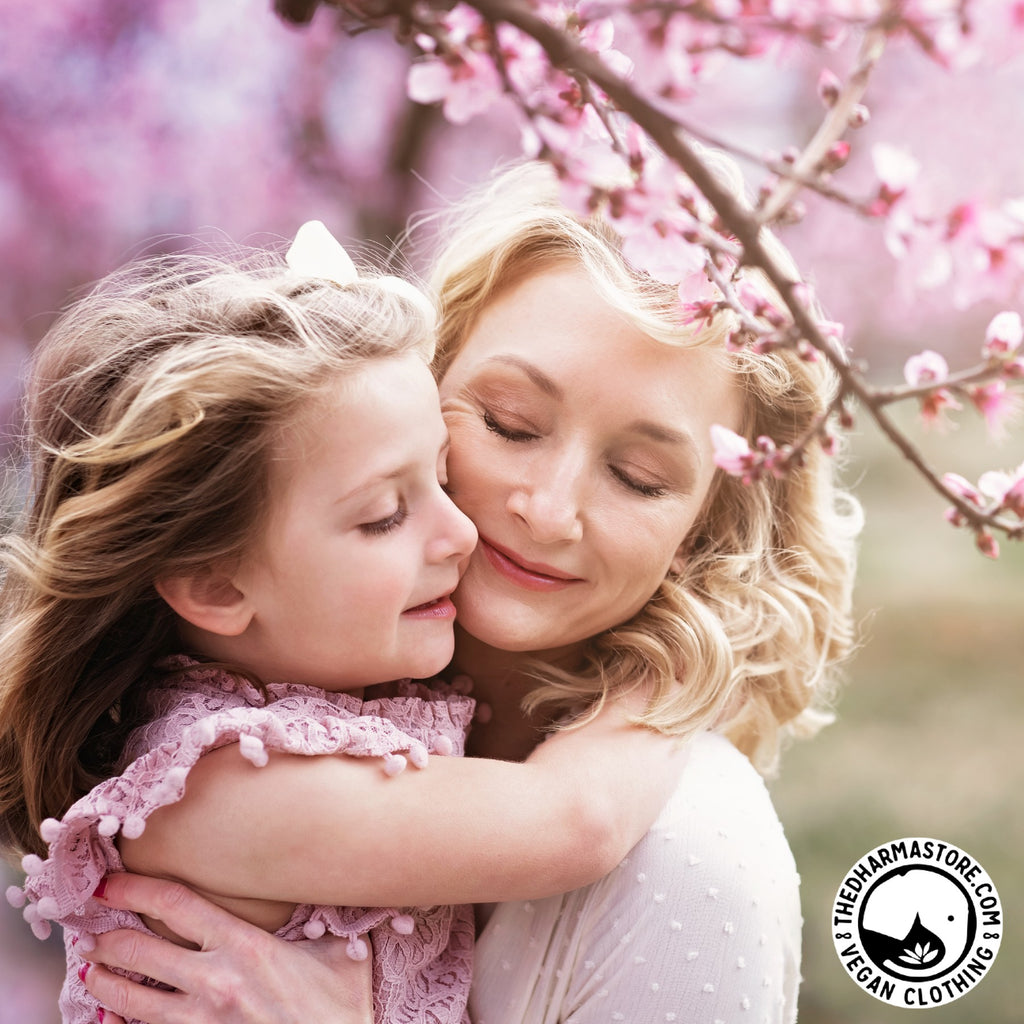 Hey there, vegan moms and families! Mother's Day is a special occasion where we celebrate and appreciate the women who have given us so much love and care. It's a day to shower them with gifts, love, and affection. This post is specifically crafted for all you amazing vegan moms out there who want to celebrate Mother's Day in a meaningful and compassionate way.
Welcome to our comprehensive guide to Vegan High Protein Meal Plans! If you're new to veganism or have been following a plant-based diet for a while, you might be wondering how to ensure you're getting enough protein. Protein is an essential nutrient that plays a crucial role in building and repairing tissues in the body, and it's especially important for vegans who don't consume animal products that are high in protein.